They are all sleeping. My husband. My kids. I ascend the stairs to head to bed.
My heart is full. Can't I just freeze time? Little kids.......little problems.
My mind quickly jumps and my heart is filled with sorrow.
A friend. Sin has taken over and Satan has a strong hold.
How can my heart feel so full and so grieved at the same time?
"
giving thanks always and for everything to God the Father...
" Ephesians 5:20
But how? How can I be thankful for this?
I fall asleep praying and trusting in a God who is greater than all of this. A Sovereign God.
Morning comes and it fills my mind again.
Finally, a phone call. The road to recovery begins.
Tears of Joy. Tears of Thankfulness. Praise the Lord.
Here are some of the things I have been thankful for this past week. 578 ~ 586
Isaac holding my hand as we walk through the parking lot.
Running into a friend and we chat as one goes up the escalator and one goes down.
Silly kids putting their stuffed animals on the ceiling fan and giving them rides.
Laughter from children as they run through the house playing tag.
Children that give a name to a fly.
Hot tea.
A toothless little boy.
That I can pray to my God at anytime and for anything and He hears me.
Answered Prayers.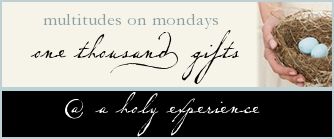 * This was actually written last week and was to be my multitude monday post for last week but it never got posted.